Life Counter
Track your life/score when playing Magic: The Gathering, or any other card and board games with Life Tracker for Playdate.
This clean/simple app has the option of 1 or 2 player layout (selectable from the menu screen).
Playdate's size and memory screen makes it the perfect score keeper. The screen is only refreshed when increasing/decreasing numbers, so won't drain your battery like using a mobile phone would.
Simply use A button to increase number, and B to decrease.
In 2 player mode, use the left and right buttons decrease and increase Player One's points, and A and B buttons to decrease and increase Player Two's.
Version 1.3: Disabled the auto-lock to avoid the Playdate going to sleep when using Life Counter.
Version 1.2: Added some features after receiving some great feedback and suggestions.
Holding buttons increases numbers. No more having to tap!
Numbers start at 20, to help out Magic players.
Added 'Reset' option to menu which resets counters to 20.
Increased the size of numbers in 2 player mode.
Version 1.1: Updated control scheme in 2 player mode. Added inverted colour option (in menu).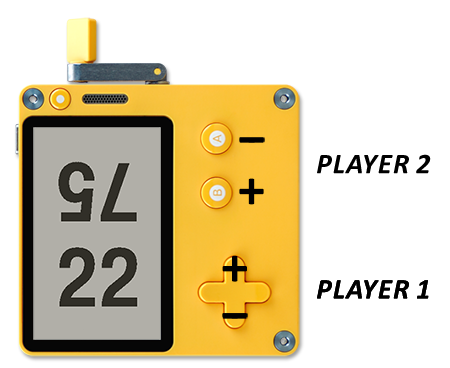 Download
Click download now to get access to the following files:
LifeCounter.1.3.pdx.zip
74 kB
Comments
Log in with itch.io to leave a comment.
The downloaded file "LifeCounter.1.3.pdx.zip" shows as version 1.2 in the sideloader and on the device.